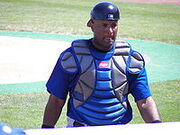 Santos "Sandy" Alomar, Jr (born June 18, 1966 in Salinas, Puerto Rico), is a former Major League Baseball catcher. He is the son of Sandy Alomar Sr. and brother of Roberto Alomar.
He played for the Mets only in 2007. His last game was on September 30.
On February 15, 2008, Alomar was named the catching instructor for the New York Mets organization. He spent the 2008 and 2009 seasons in that role.