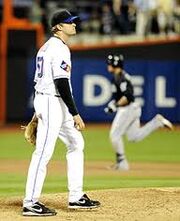 Sean William Green (born April 20, 1979) is a pitcher for the Milwaukee Brewers.
On December 10,2008 he was traded to the mets that sent him,J.J. Putz and Jeremy Reed to the mets.
April 7, 2010 against the Flordia Marlins on Opening Day Week. Green pitched an inning in the Mets loss. He was part of the September Callups.
As of December 3, 2010, the mets have non-tendered contracts to John Maine,Sean Green, Chris Carter which made them free-agents.
On December 22, 2010, Green signed anon-guaranteed one-year contract worth $875,000 with theMilwaukee Brewers.