Welcome!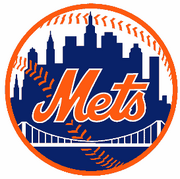 Welcome to our wiki which is about our favorite team the New York Mets which is the subject and obsession of this site.
We are not responsible for changes made to pages that may have reverted your edits. For more on changes see Recent changes.
Questions? If you have any questions don't be afraid to ask us at the Help desk or you can post them at "discussion" pages associated with a article you have a concern with. Post a message on my talk page!
Need more help? The Community Portal has an outline of the site and links to pages to help you learn how to edit.
Loging in is mandatory unless you are not spamming or just improving the site. To log in click sign in.
Glad to have you on board. Let's Go Mets!