The Sandman Will Keep You Awake - The Loop
Play Sound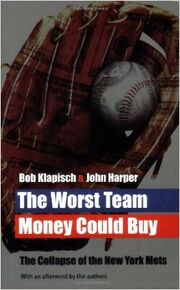 The Worst Team Money Could Buy: The Collapse of the New York Mets is a 1993 non-fiction sports book written by sportswriter Bob Klapisch and John Harper. The book was later republished in 2005.
The book talks about the 1992 Mets season that had high expectations with the highest payroll ever for a major-league team, $45 million. The team signed veteran second baseman Willie Randolph, power-hitting first baseman Eddie Murray, and star pitcher Bret Saberhagen. The biggest of the acquisitions was outfielder Bobby Bonilla, who signed a five-year deal for just over $29 million. None of these acquisitions resulted in any success, as Saberhagen was ineffective, Randolph was injured, and Bonilla failed to live up to the deal he had signed and often heard boos from the Shea Stadium crowds.
In response to the book, Bonilla confronted Klapisch in the team's clubhouse, threatening him, and having to be restrained. Bonilla was quoted saying that he would "show him the Bronx" in response to the book.
The book also talks about the sex scandals that plagued the club in Florida to the puritanical, no-booze rules of manager Jeff Torborg, from bad behavior on road trips to the downright ornery practical "jokes" that big boys play.
External Links
[
]
"the bunt" • "the catch" • Alex Anthony • Banner Day • Can't Anybody Here Play This Game? • Chico Escuela • Cowbell Man • Family Day • Frequency • Game 6 • Generation K • George Kalinsky • Grand Slam Single • Helmet Day • Jane Jarvis • Kiner's Korner • "Let's Go Mets Go" • Logos and uniforms of the New York Mets • Lovable Losers • Mathematically Alive • "Meet the Mets" • Mettle the Mule • Michael Sergio • Mr. Met • Mrs. Met • Sidd Finch • Sign Man • "The Boyfriend" • The Odd Couple • The Worst Team Money Could Buy: The Collapse of the New York Mets • Ya Gotta Believe • Mets in Popular Culture