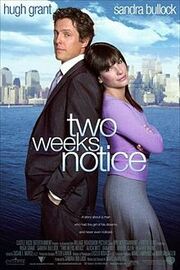 Two Weeks Notice is a 2002 romantic comedy film starring Hugh Grant and Sandra Bullock from Warner Bros. Pictures. The film was written and directed by Marc Lawrence.
The Mets are the centerpiece of a comedy sequence in the film, in which Lucy Kelson (Sandra Bullock) and George Wade (Hugh Grant) have first-row seats at Shea as the New York nine takes on the San Francisco Giants. Pedro Astacio is on the mound for New York. Tsuyoshi Shinjo is at bat for the San Franciscans and the fans, as they've done for ages, are chanting, "Let's Go Mets!" Shinjo smacks an Astacio pitch, but the movie audience does not see if it's a hit or an out. The next batter (who wears #17 and has the name "DeVault" on his jersey) then hits a foul popup right where Lucy and George are seated. Mike Piazza, the Mets backstop, rushes toward the spot and crashes into Lucy, who also is trying to nab the horsehide. Piazza of course fails to make the catch and tumbles into the stands. After acknowledging George, a super-rich land developer who is as celebrated as Donald Trump, Piazza looks at Lucy with disdain and tells her, "Hey, next time go to a Yankee game."
But this is not the punch line. Even though Lucy is garbed in a Mets jacket and cap, she is booed by the fans around her. Then her face is shown on the ballpark's Diamond Vision screen and all those in attendance jeer her. They even are encouraged by Mr. Met himself.