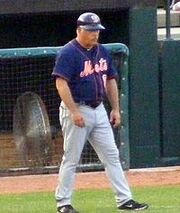 Walter Wayne Backman (born September 22, 1959) is a former Major League Baseball second baseman. He is best known for his time with the New York Mets from 1980-1988 and was a member of their 1986 World Series-winning team. Backman currently is the Manager for the Las Vegas 51s, the New York Mets AAA minor league Team. Backman has appeared on The Good Doctor on SNY.
He played for the Mets from 1980-1988. He was traded to the Minnesota Twins along with Mike Santiago for Jeff Bumgarner, Steve Gasser and Toby Nivens, none of whom ever emerged as a major leaguer.
Backman could have been the new manager for the New York Mets but instead Sandy Alderson chose Terry Collins to be the new manager.
In 2010 he managed the Brooklyn Cyclones replacing Pedro Lopez and replaced by Rich Donnelly. He managed the Binghamton Mets in 2011. Following the B-Mets 65-76 record, he was then named the manger for the Buffalo Bisons for the 2012 season. He replaced Tim Teufel. He was then named the manager of the Las Vegas 51s in 2013.
On September 24, 2011 he joined the team to replace Mookie Wilson at first base for the remainder of the season since Wilson's sister passed away. He joined the club again when the minor league season was over as an assistant coach in 2012.
Alfonzo * Johnson * Teufel * Tijerina * Wilson * Greer * Lopez * Backman * Donnelly