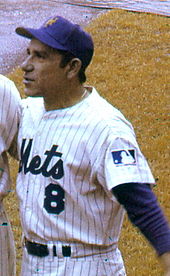 Lawrence Peter "Yogi" Berra (born May 12, 1925) is a former American Major League Baseball catcher, outfielder, and manager.
New York Mets
Edit
He played for the New York Mets only in 1965. His last game was on May 9.
Berra served as the first base coach coach for the team. He was coach for 8 seasons with the team. He served as coach from 1965-1971. He was replaced by Sheriff Robinson at first base.
He served as manager from 1972-1975. Berra served as a Player-coach only in '65.
He was fired from being manager on August 5, 1975. Berra replaced former manager Gil Hodges. He was replaced by Roy McMillan.
Stengel * Westrum * Parker * Hodges * Berra * McMillan * Frazier * Torre * Bamberger * Howard * Johnson * Harrelson * Cubbage * Torborg * Green * Valentine * Howe * Randolph * Manuel * Collins
Community content is available under
CC-BY-SA
unless otherwise noted.